Spring term week 9 - Monday 10 to Friday 14 March 2014
Home
Welcome to Hamilton Academy.
It is an honour to lead a school with such a rich culture and history. Hamilton is in a privileged position whereby, although we are large in numbers, our split site allows us to be smaller than many primary schools. We see ourselves as a learning community where everyone works together on behalf of our children in order to maintain a happy and caring ethos in which children can achieve high standards of successful learning.
The website will provide you with information about the school, but in order to appreciate us fully, please do make an appointment to visit. I will be delighted to show you around and look forward to meeting you.
I trust that you will find our website informative. We are currently in the process of updating the website's content and you will shortly find some changes, including our own news feed - hmail voice : PRINCIPAL'S PATTER.
Graeme Aldous
Principal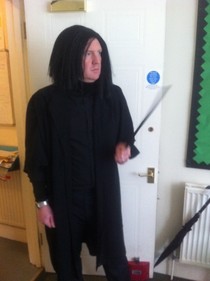 "still looking for Harry Potter!"
JOB VACANCIES
NQT required for September
hmail voice
PRINCIPAL'S PATTER
Thursday 06-03-14 10.45am
'Maths at Hamilton Academy by 6D' is the subject of the next FoH Coffee Morning, on Wednesday 19 March in Hampden Road hall from 9-10.30am. Click here for more info.
Thursday 06-03-14 10.15am
I've just seen a Cat in the Hat, Where's Wally, the Gruffalo and the Woman Who Went to Bed for a Year. It's World Book Day and there are loads of characters here today! Snape
Wednesday 05-03-14 2.50pm
Reminder - it's World Book Day tomorrow - children may come to school wearing the costume of a book character.
Tuesday 04-03-14 11.30am
FoH has an amazing offer of tickets for 'Classic Ghosts' at Wycombe Swan on 20 March. Message sent home by ParentMail. Click here for info
Tuesday 04-03-14 10.20am
FoH has announced the date for the Family Photo Day.- 8 June. Message sent home by ParentMail. Click here for info
Thursday 27-02-14 5.30pm
Our Reception classes need some empty egg boxes for a project they are doing - if you have any, please bring them into school tomorrow. Thank you.
Friday 31-01-14 3.00pm
The next meeting to update parents about the Ofsted plan will be held on Thursday 8 May at 7.30pm in the Hampden Road hall.
ADVERSE WEATHER CONDITIONS AND SCHOOL CLOSURE
We always try to keep school open. However, on some occasions, adverse weather makes it unsafe for our families and staff to travel to school. Such decisions are made in consultation with our governing body. We record our decision on our website and Bucks County Council's website: http://apps1.buckscc.gov.uk/eforms2005/SSSchoolStatus/default.aspx